Employee of Jefferson County trash-hauling business dies when building catches fire | Law and order
Firefighters from the Rock Community Fire Prevention District are working to open an upper section of a building at Bob's Disposal Services after an employee was killed in a fire on Tuesday, January 28, 2020. Photo by Robert Cohen, [email protected]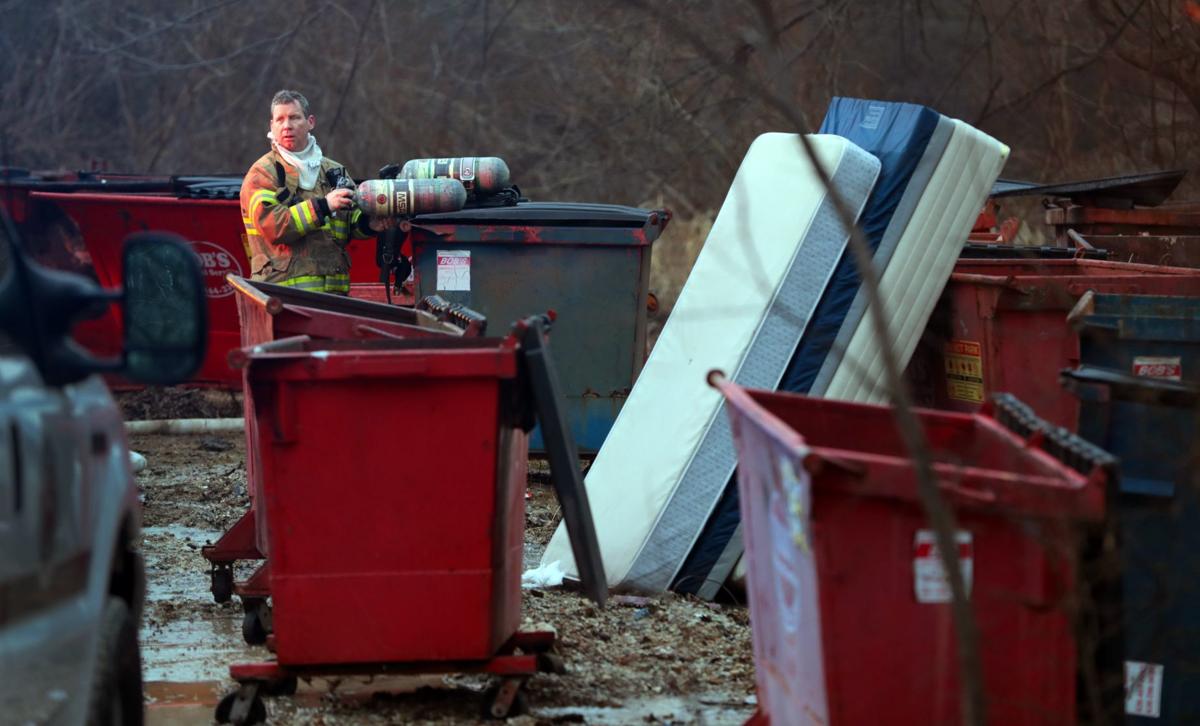 Trash cans lie on Bob's Disposal Services property as firefighters from the Rock Community Fire Prevention District work at the location where an employee was killed in a fire on Tuesday, January 28, 2020. Photo by Robert Cohen, [email protected]
Firefighters from the Rock Community Fire Prevention District work at the Bob's Disposal Services fire site where an employee died on Tuesday, January 28, 2020. Photo by Robert Cohen, [email protected]
JEFFERSON COUNTY – A man died early Tuesday in a fire at a garbage haulage company in Imperial, despite a rescue attempt by two employees who, according to authorities and a business owner, were pushed back by flames and heavy smoke.
Firefighters were called to Bob's disposal services on 883 Big Z Boulevard in Imperial at around 4:15 a.m. Tuesday. The business was on fire when they arrived.
Firefighters were told that the victim was an employee who was sleeping in an upstairs loft and who appeared to have locked himself in. The Jefferson County Sheriff's Office had a fire investigator on site and another was dispatched from the state firefighter's office. Grant Bissell, a spokesman for the sheriff's office, confirmed that one person died in the fire.
The cause of the fire is being investigated.
Patricia Grundmeyer owns the business with her husband and informed the Post-Dispatch that the man who died in the fire was an employee.
"I told him he couldn't live in the building and he said he would only stay if he couldn't go home," she said.
She said a route manager and another employee tried to get into the building to get him out of there. Both inhaled smoke and could not reach it. "